Experience
With 30 years of experience, Waji will deliver innovative cuisine to make your event memorable.
Extraordinary
Waji's contemporary style, a blend of French, Asian and Mediterranean flavours will make your next event is anything but ordinary.
Choice
You choose where to have your next function.. beach, garden, bush, or mountain. Tasmania's premier caterer, Waji has served 10 to 1000 people.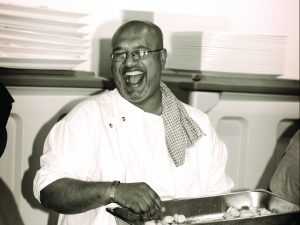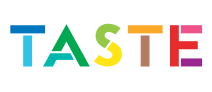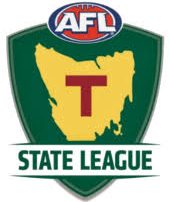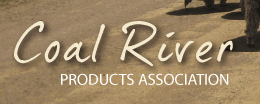 We Come to You
Catering to Hobart and the rest of Tasmania
Weddings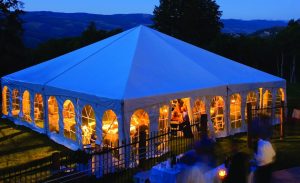 Wedding Catering with a Difference
You have the flexibility to choose when and where you have your reception.
 Choose to be married in the far reaches of Tasmania, at a local park or forest reserve, or even your own backyard.
Waji's fully mobile, commercial kitchen and professional waiting staff come to you.
Waji offers;
Food and wine matching
Flexible menus
Marquee hire and wedding decoration
Event clean up
Corporate Events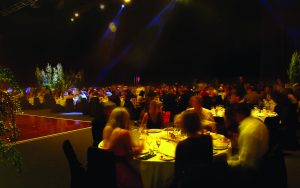 Professional Corporate Catering
From 10 to 1000, Waji has the experience and reliability to produce quality cuisine at both large and small-scale events.
Restaurant quality food at the location of your choice.
Waji is Hobart and Tasmania's corporate catering specialist with more than 20 years experience.
Contact Waji today to set your event apart.
Private Functions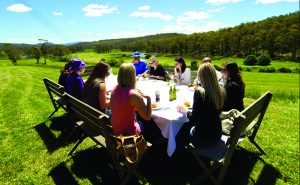 Memorable Experiences
Looking to make this birthday extra special? or celebrating your anniversary?
Waji will cater for you anywhere in Tasmania.
With strong relationships with event organisers across Tasmania, Waji can put together your event making it convenient and easy for you.
Best Chutney in the World! I have it with everything now.
Dear Waji,
Thank you so much for providing the most delicious lunch for Steve's birthday celebration. Everyone loved it and we all ate so much we had trouble even eating breakfast the next day!! It was a great pleasure to meet you and your catering meant we had the most wonderful day ( stress free despite the fact that it was a family gathering which often has a high stress potential).
Thank you again,
We needed someone to cater to our divorce party. Waji made sure it was fun and amazing!
Georges on the Park: Come dine with us
A Venue with a difference
Located in the heart of the Northern Suburbs, the brand new Georges on the Park at KGV Oval has space and facilities for 20 – 200 seated guests.
10 Minutes from the city, This modern and versatile space can cater to your wedding, birthday parties, award nights, conference meetings and private functions.
Ready for a hassle free event?
Let Waji and his team look after you at this beautiful, modern venue that is fully equipped to host your next event.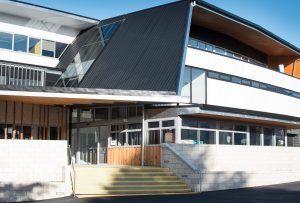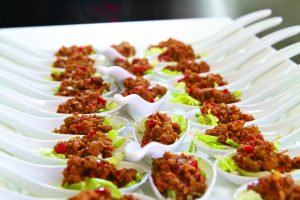 Blue Lip Mussel Laksa shooter with chilli oil

The Fish Cake with chilli dipping sauce

Steak Tartare on rye toast

Bang Bang Chicken in short crust pastry

Pulled Lamb Shoulder with hummus on toast

Assorted Waji Mini Pies with roasted capsicum chutney

Crumbed Scallops with dill mayonnaise

Broconcini, basil and tomato on mini toast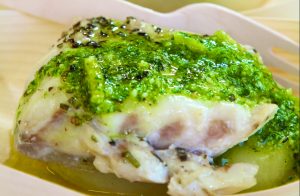 Cajun Calamari with palm sugar dressing in a cone

Braised Beef Cheek with Paris mash and gremolata

Blue Eye Trevalla with Paris mash and cucumber oil

Crispy five spice Quail with spiced salt, apple and cucumber salad

Roast Duck, red cabbage ragout with pinot juice

Master Stock poached Chicken Breast on soba noodle salad

Kaffir Lime panna cotta with mango compote
MAIN
Fish with seafood mousse in puff pastry with verjuice butter sauce
Green Salad with French dressing
Confit of Chicken Maryland with mushroom white wine sauce
Pulled Lamb Shoulder on a pearl cous cous and tomato ragout
VEGETABLES
Roasted potatoes – Roasted Beetroot – Roasted Carrots – Baked vine Ripened Tomatoes – Steamed beans in lemon butter sauce
DESSERT (ALTERNATE DROP)
Chocolate orange cake with rhubarb and whipped cream
OR
Vanilla bean panna cotta with berry compote
CANAPES
Bang Bang Chicken in short crust pastry
English fish cake with saffron mayonnaise
Pulled Lamb Shoulder with hummus on rye toast
MAIN
Cajun Salmon with grapefruit butter sauce
Mesclun, pickled grapes and walnut salad
Grilled Jerk Chicken with almond and coriander sauce
Pepper Roast Eye Fillet with mushroom ragout
VEGETABLES
Roasted Potatoes – Roasted beetroot in red wine – Roasted Dutch carrots – Pepper crusted Vine Ripened tomatoes – Seasonal green vegetables in butter
DESSERT (Alternate Drop)
Coventure Chocolate and kirsch prune mousse with roasted hazelnuts
Kaffir lime leaf and vanilla panna cotta with mango compote
Example Alternate Drop Menu
ENTREE
Grapefruit cured Salmon, horseradish & Dijon mustard, capers, red onion, chives and rye toast
OR
Five Spice Quail, spiced salt on a salad of cucumber and apple in palm sugar dressing
MAIN COURSE
Master Stock Poached Pork Scotch on sticky rice with chilli jam and Chinese vegetables
OR
Herb and Mustard Crusted Eye Fillet with Thyme Jus and seasonal  vegetables
DESSERT
Traditional Tiramisu and Dutch Coco
OR
Poached Saffron and Honey Pear with cream and roasted hazelnuts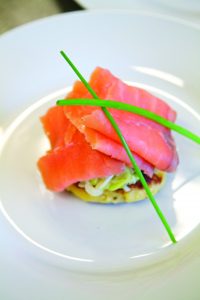 Spit Roast
MEATS
Lamb Shoulder in Herbs
Pork Shoulder with Sage
Jerk Chicken
SALADS
Greek Salad with thyme dressing – Coleslaw
Green Bean Salad with Almonds and mint
Potato Salad with ham, egg and chives
Roasted Cauliflower Salad with yoghurt dressing
Cheese and fruit board with baguettes
Condiments
BBQ Sauce – Mango Chutney – Roasted Capsicum Chutney – Dijon Mustard – Pigeon Whole Breads and Olive Oil
OR
Five Spice Quail, Spiced salt on a salad of cucumber and apple in palm sugar dressing.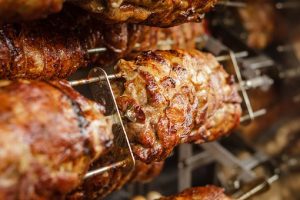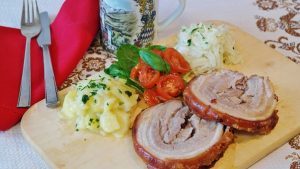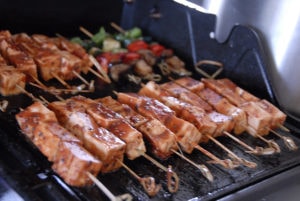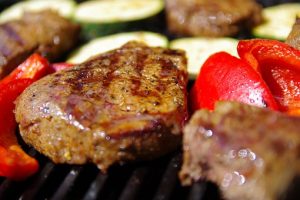 Gourmet BBQ
Cajun Salmon with crispy skin
Lemon Myrtle Chicken Thighs
Assorted Ziggy's Sausages
Lemon Squid Tubes
Vegetable kebabs in thyme
SALADS
Potato, egg and leg ham in mayonnaise
Spiced citrus cous cous with preserved lemon
Watermelon, red onion, cracked pepper, fetta and chilli verjuice
Bread, cucumber, tomato and pepper salad
Cheese, fruit and quince paste with baguettes
CONDIMENTS
BBQ Sauce – Mango Chutney – Roasted Capsicum Chutney – Dijon Mustard – Pigeon Whole Breads and Olive Oil
Want to arrange a consult?
Get in touch with Waji – 0418 568 624
ABN: 47 613 627 065
Address: 1a Anfield Street, Glenorchy TAS 7010, AUSTRALIA
or fill out this form
Best Chutney in the World! I have it with everything now.
Dear Waji,
Thank you so much for providing the most delicious lunch for Steve's birthday celebration. Everyone loved it and we all ate so much we had trouble even eating breakfast the next day!! It was a great pleasure to meet you and your catering meant we had the most wonderful day ( stress free despite the fact that it was a family gathering which often has a high stress potential).
Thank you again,
We needed someone to cater to our divorce party. Waji made sure it was fun and amazing