When he was born his mother thought he had the face – 'waj' – of a god 'Allah' and she named him Wajiullah. 'Waji' for short.
When he was a toddler, the most powerful cyclone in living memory hit his country, Bangladesh, and tidal waves swept nearly half a million people to their death, among them Waji's father. Unable to provide for her son, Waji's mother had to give him to an orphanage.
At eight he was given a new home and a new life in Australia where he joined a family in Melbourne. He was the youngest, the only boy, and everyone doted on him. Waji Spiby has grown up out of his indian sub-continental heritage, with a Moslem name but an English foster-family and an Australian culture.
When he returned to Asia, flashing those big white smiling teeth of his, children called him the 'Smiling Buddha' but here in Australia… Maaaate! Waji's an Aussie. It is people like Waji who have changed the face of today's Australia.
It was nothing fancy or flash in his Australian suburban home, but Waji loved helping his mum with home cooking. He didn't feel at all the same about homework, so as soon as he could get an apprenticeship he did, in cooking. After his apprenticeship Waji was lucky enough to work with a Chinese banquet chef. He worked hard, he took no holidays, and he worked his way up from hotel to hotel at the top end of town – the Sheratons and Hyatts.
Eventually he was enticed to leave Australia to work in Europe. He stopped off in Fiji before arriving in Germany, then Austria, Switzerland, and Italy. To know yourself, to see the opposite is not a bad thing.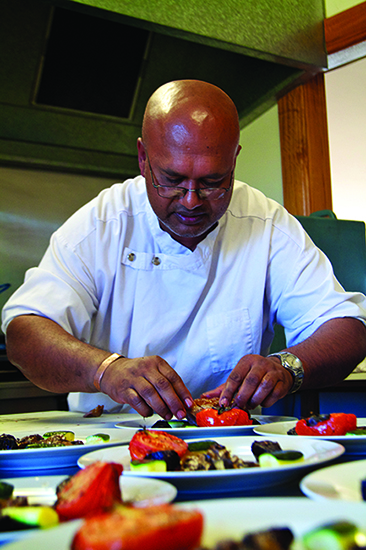 Europe astounded Waji. He ate both the best and the worst food he had ever tasted. The best coffee, the best bread, the most delicately spiced vegetables, but also the most terrible Asian dishes. He returned to Australia and chefing and it was not until he was nearly thirty that he returned to his roots in Asia to taste the genuine article.
In Vietnam, Cambodia, Singapore, and Hong Kong he found new flavours that spoke to him at another level.
Finally, Waji went home to his village in Bangladesh. It was not how he remembered it. His romanticised childhood memory was confronted by a smaller, drier landscape but he discovered also the rustic charm of village life. It would be surprising if this Asian heritage did not strongly influence Waji. Be surprised.
Waji did not train in any traditional cuisine nor did his travels somehow lead to a rediscovery of his roots, and it was not recipes or traditions that inspired him. Waji is Australian, his main lessons he taught himself, and his teaching method was quite unusual.
Very early in his apprenticeship Waji decided to eat everything – every single ingredient pure and alone.
He would go into a delicatessen and, starting at one end, search the shelves for pure ingredients: sturgeon, truffles, an oil or a new vinegar, and he would take them home and eat them, alone, one by one, mouthful by mouthful, pure and raw. He ate every fruit, every vegetable, every spice; he ate mouthfuls of pure cinnamon, he chewed an entire star anise.
He wanted to know the pure and unadulterated taste of everything. He wanted to know their essence.
And by this he taught his mouth unforgettable lessons. Waji taught his mouth to taste; now his mouth tells him how to cook. Today, when Waji talks about an ingredient he points to the parts of his mouth where he remembers it.
He can create a recipe in his mouth, add more of one and less of another ingredient, and taste the difference. And he continues to try, try and try new tastes.
A dish to Waji is its flavour combinations; flavours are like tubes of colour, like musical notes.
Tasmania is a long way from the spice islands. Waji went to Tasmania to join his cousin; a fellow-chef and eventually he settled there and worked his way through some of Hobart's best eateries.
He enjoyed creating Asian-style dishes but according to his own taste.
He made his own version of everything and it seemed natural to make his own accompaniments as well.
His first 'product' was red chilli oil. He made it for himself because he couldn't find a commercial version he liked.
When friends and fellow-chefs asked him to make them some too, he had labels made and… a new business 'Waji's' just started from there.
Soon, he was making his own curry pastes, chutneys and other accompaniments. It was what his mouth told him to do, together with fortuitous gifts or purchases of raw ingredients.
Tasmanian thinking was a strong influence. The thinking on that small and remote island tends to favour things local, small-scale, pure and organic: no artificial flavours, colours, or preservatives. As his range grew and moved beyond commercial chefs towards home cooks, the bottles became smaller but Waji production remains homemade in style, small in scale, dominated by fresh ingredients, and being ready to use now.
New customers have allowed Waji to develop more sophisticated products.
A Waji product is always the fusion of three or four taste-textures into one, a combination of ingredients, and Waji suggests you use his creations like single ingredients. They may be subtle and complex but they are ready to go.
Waji does the slow and the gentle, the reduction and the concentration; you do the quick and easy, the last addition.Just a dash, a few drops, a teaspoonful, three or four dip-bowls at the barbecue – that kind of thing.
Waji's products are not authentic copies of exotic specialties. They are unique to Australia but the are everyday products.
They are 'Austrasian'.